MLB: The 2017 Year in Review
As the year 2017 comes to a close, let's take a look back at another memorable year in Major League Baseball.
This was the year of the launch angle. As the fly ball rate exploded, so did home runs and strikeouts. 6,105 home runs were hit, snapping the previous record 5,693 of the steroid-era year 2000. We saw TWO four home run games this year, one from Scooter Gennett of the Reds and one from J.D. Martinez of the D-Backs. In all, there were 41 players who hit the 30 home-run-mark.
Meanwhile, the league also set a new record with 40,105 strikeouts, exceeding its previous strikeout record by 1,123.
Among the league-wide home run epidemic, we saw contributors such as NL MVP Giancarlo Stanton, rookies Aaron Judge, Cody Bellinger, and Rhys Hoskins, and breakout surprises from Eric Thames, Marcel Ozuna, and Charlie Blackmon. This revelation has provided more excitement to the game in a year that was nothing less than exciting in its own right.
Fun Moments
4/6
A strike-three pitch in the dirt to Ian Happ stuck to the chest protector of Yadier Molina. Everyone had a good laugh about it as we all scratched our heads in bewilderment.
4/25
Chris Coghlan gave new meaning to "you gotta want it".
5/29
Andrew McCutchen hit a walk-off home run then celebrated with a "Milly Rock".
6/11
This fan could not "Beat the Freeze".
8/9
Yadier Molina hit a grand slam to take the lead against the Kansas City Royals on the first pitch after a cat runs onto the field and bits the grounds crew member who carried it off.
8/21
The Cardinals and Pirates played in the first Little League Classic at BB&T Ballpark at Historic Bowman Field in Williamsport, PA. In front of the best little league teams in the world, the Pirates beat the Cardinals 6-3 as the teams displayed postgame sportsmanship with handshakes and high-fives little league style.
8/25
Players' weekend was highlighted with unique uniforms, displaying nicknames such as Tsunami, Corey's Brother, Thor, Miller Time, Chuck Nazty, Bringer of Rain, and La Potencia.
9/30
Andrew Romine became the fifth player to ever play all nine positions in a nine-inning game. He fielded the final out of the game at first base for an unassisted groundout.
11/1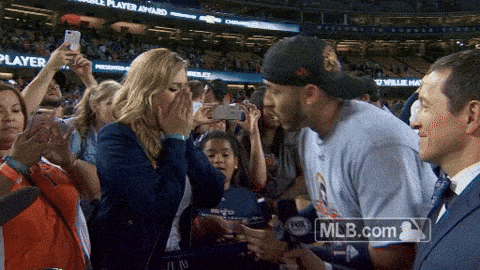 Carlos Correa proposed to his girlfriend after winning the World Series.
Next Page: Milestones
My name is Sam Starosciak and I am a recent graduate of Arizona State University majoring in Business Data Analytics.