PAC-12 Baseball: Northern California Stars Shine Above the Rest
The Pac-12 Conference has produced some superior baseball players throughout the years. From the likes of Mark McGwire, John Olerud, Jackie Robinson, Dustin Pedroia, and Barry Bonds, to Michael Conforto, Terry Francona, Fred Lynn, Trevor Bauer, Randy Johnson, Tom Seaver, Mark Prior, etc. The list goes on and on. It's known as the Conference of Champions for a reason; its teams have won 28 national championships, 18 more than the next closest conference.
The Pac-12 has always relied heavily on west coast talent to continue its prolonged success, and this year is no exception. While so much of the conference's talent is concentrated in southern California, some of this year's best performers actually hail from the more-forgotten half of California. Here's how they're doing this year:
Hitters
Nick Madrigal, Jr. 2B Oregon State, Elk Grove High School
Photo Credit: Scobel Wiggins of Statesman Journal
Madrigal has been one of the most accomplished Pac-12 players in recent memory. Last year he won the conference's Player of the Year award. This year he's had to deal with a setback, missing seven weeks with a fractured wrist. Despite his limited availability, he has still shown that he's among the best hitters in the conference. He's hitting .449 (35-78) with 20 runs, 2 HR, and 17 RBI in 18 games. He may not win the batting title because of his at-bat total, but he is a special hitter. His defensive ability may perhaps be just as good. Last year he won Defensive Player of the Year. So far this year, he hasn't made an error in 83 chances with his great hands and range to play shortstop. With his 5'8" 165 lb. frame, he's been compared to Dustin Pedroia and Jose Altuve: a great contact hitter with plus speed and gritty work ethic. He's expected to be a top 10 pick in this year's MLB draft, maybe even top 5 or top 3.
Andrew Vaughn, So. 1B Cal, Maria Carrillo High School
Photo Credit: California Golden Blogs
The reigning Pac-12 Freshman of the Year has made his best case to be this year's Player of the Year. Following his stellar freshman campaign, Vaughn has stepped up his game in almost every statistical category. He currently leads the conference in batting average (.406 is 10th in the nation), RBI (53), total bases (141, T-3rd nationally), slugging percentage (.855, 2nd in the nation), OBP (.538, 2nd in the nation), and is second in runs (48), hits (67), and home runs (21, 2nd nationally). Vaughn possesses a rare combination of hitting for both average and power to all fields. Sometimes spectators get so caught up in his raw hitting ability that they underestimate his fielding aptitude. In his career, he's only made three errors in 952 chances, good for a .997 fielding percentage. He has won Pac-12 Player of the Week three times this year and is truly a must-see player, primed to have an excellent career beyond his days in Berkeley. This year's Player of the Year Award is his to lose. Golden Spikes?
Jeremy Ydens, So. OF UCLA, St. Francis High School
Photo Credit: UCLA Athletics
Ydens was the very last pick in the 2016 MLB draft out of high school, 1,216th overall to the Cardinals. "I feel like I need to continue to get stronger and get better as a baseball player, and going to UCLA, I can definitely do that." This year, he might have made the most unexpected and significant leap from last year's stat line to this year. That might have something to do with Coach Savage's increased confidence in his young outfielder. More playtime has given him the opportunity to get 36 more hits (so far) than his freshman year. His .351 batting average is good for 9th in the conference and his eight stolen bases place him in the top ten for steals.
Trevor Larnach, Jr. OF Oregon State, College Park High School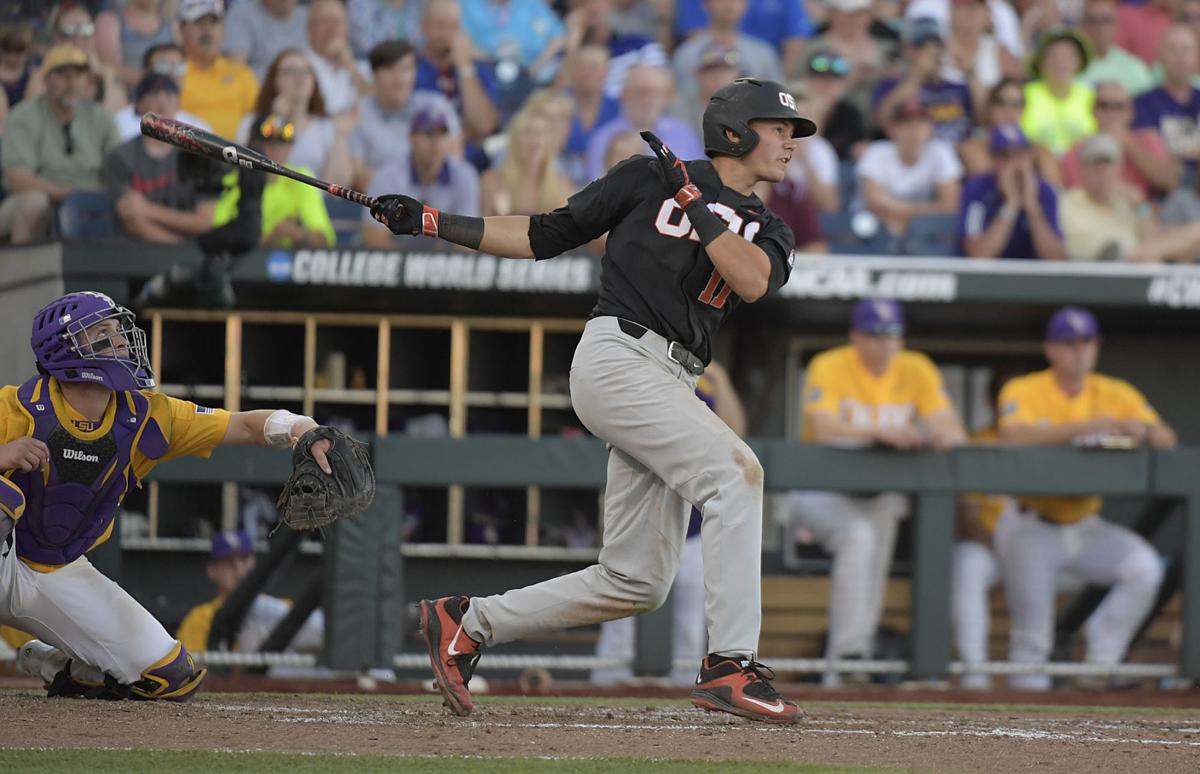 Photo Credit: Mark Ylen of Mid-Valley Media
Larnach is one of the many great hitters produced by Oregon State in recent years. He's batting .339, 13th best in the Pac-12. In the first weekend of the season at the Sanderson Ford College Baseball Classic, he went 8 for 12 in the four games with 3 home runs, 2 doubles, 7 RBI, and 6 walks. His left-handed power stroke is the best you'll find in the conference. Larnach ranks top five in RBI, HR, total bases, and slugging percentage. What's also impressive about his approach is that he's a patient hitter that will take his walks. He's fifth in walks and fifth in overall OBP. No doubt that Trevor Larnach is one of the most feared hitters in the Pac-12. There's a strong possibility we could be hearing his name in the late first round or early second round come June.
Tanner Dodson, Jr. OF/P Cal, Jesuit High School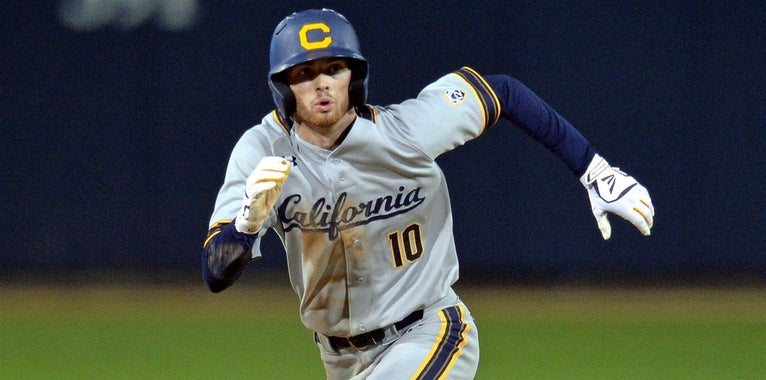 Photo Credit: KLC Photos
The best two-way player in the conference, Dodson patrols centerfield for eight innings and then closes out games for the Bears on the mound. This has been a massive breakout year for him statistically, both at the plate and on the mound. At the plate, he's a switch-hitter batting .328 with 62 hits and 12 stolen bases (T-1st in Pac-12). He's got the speed to cause havoc on the base paths and run down balls in the gaps. On the mound Dodson's been lights out, posting a 2.02 ERA and 10 saves (3rd in the conference) in 35.2 innings and 17 appearances as the team's closer. His mid-90s fastball complements a plus slider, both of which have shown great progress this year. It would not be surprising at all to see him go in the top ten rounds of the draft. The real problem for that team will be whether to advance his game as a pitcher or position player.
Cal Stevenson, Sr. OF Arizona, John F. Kennedy High School
Photo Credit: Emily Gauci of The Daily Wildcat
In his second year with the Wildcats, the centerfielder and leadoff hitter has carried over his success from last season. In 2017 he did a superb job of setting the table for Arizona, leading the conference in both walks and runs scored. This year he's 9th in OBP (.444), T-8th in runs (41), and 3rd in triples (6, T-7th nationally). Stevenson also excels at putting the ball in play. Among all qualifying hitters in the Pac-12, he has the second fewest number of strikeouts with 12. Stevenson's best game this season came at New Mexico when he went 5 for 6 and drove in 3.
Spencer Torkelson, Fr. 1B/OF Arizona State, Casa Grande High School
Photo Credit: Sun Devil Athletics
After going undrafted out of high school, the runaway candidate for Pac-12 Freshman of the Year has had a historic season for the Sun Devils. He currently leads the nation in home runs with 22. No freshman in history has ever won the national home run title. Batting .328, his mature and patient approach at the plate makes him so much more than just a power hitter. His Pac-12 offensive rankings have him 1st in runs scored (50), 2nd in slugging percentage (.764, 4th nationally), 3rd in total bases (133, 10th nationally), T-4th in walks (34), 8th in OBP (.447), and T-7th in RBI (45). Back on March 29th, he hit his 12th home run at Washington State, breaking Barry Bonds' ASU freshman home run record. He has since doubled Bonds' total to 22 and is five away from Mitch Jones' school record of 27 set in 2000. When Arizona State moves its fences in next year, who knows how many home runs Torkelson could hit?
Steven Kwan, Jr. OF Oregon State, Washington High School
Photo Credit: Oregon State Athletics
Kwan is everything you want in a leadoff hitter: a patient, left-handed, high-contact hitter with blazing speed and a high on-base percentage. He ranks top ten in the conference for batting average, OBP, runs, hits, triples, walks, and stolen bases. According to the NCAA, Kwan is the 10th toughest D1 player to strikeout in the country, only striking out once every 17.7 at-bats. His ten strikeouts are the lowest total for qualifiers in the entire conference. Meanwhile, he also leads the Pac in walks with 41 and is 14th in the nation in walks per game. After getting on base he immediately puts pressure on opposing defenses with his speed. He's 12 for 16 in stolen bases, tied for the most in the Pac-12. In the outfield, he displays sensational closing speed and has five outfield assists to go along with his numerous, acrobatic catches. Kwan is the spark plug to the Oregon State offense that ranks fourth in the nation with a team batting average of .321.
Nico Hoerner, Jr. SS Stanford, Head Royce High School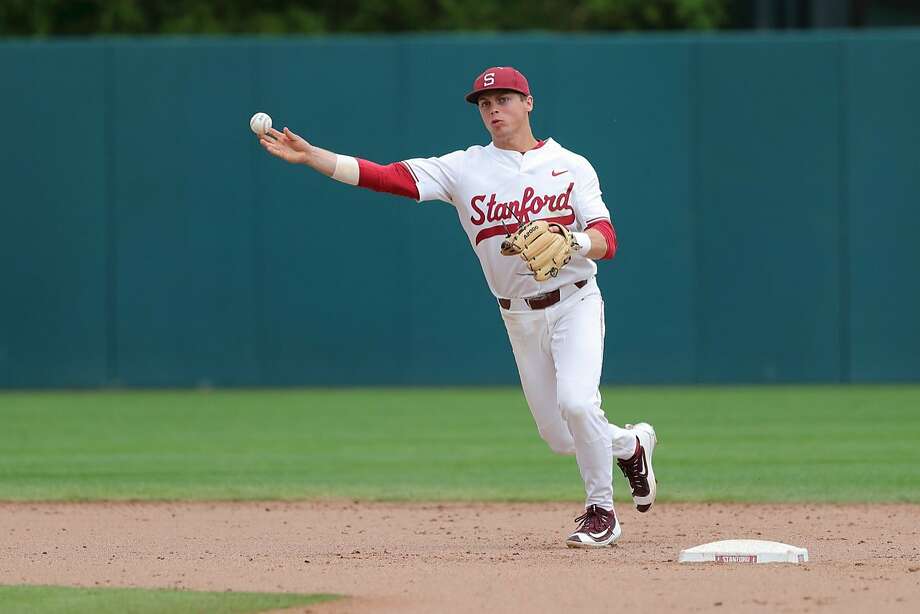 Photo Credit: Stanford Athletics
Hoerner is one of the veteran leaders on the Stanford Cardinal who currently sits as the 2nd ranked team in the country. He profiles as a top-of-the-order guy with above-average speed, a low strikeout total, and great situational awareness. He's batting .335 while also tied for 5th in the conference with 4 triples, tied for 1st with 12 steals, and tied for 3rd with 5 sacrifice flies. He's currently on a 13-game hitting streak, his second hitting streak of that length this season. There's a good chance Hoerner will be drafted this June. Coincidentally, his head coach, David Esquer, was also drafted as a shortstop out of Stanford back in 1987.
Andrew Daschbach, So. 1B/OF Stanford, Sacred Heart Preparatory
Photo Credit: Bob Drebin of isiphotos.com
Daschbach is one of five Cardinal players in their starting lineup batting over .300. What separates the Cardinal cleanup hitter from the rest is the fact that he's the only one with double-digit home runs. His 14 home runs tie him for third in the conference and to go along with them, he's totaled 100 total bases, good for a share of 8th place in the conference. He leads the conference in RBI (54) and is ranked 13th nationally in RBI per game with 1.23. His ability to hit for extra bases has him tied for 7th place in slugging percentage. Up and down, there are lots of tough outs in Stanford's lineup, but this is the guy you don't want to beat you.
Pitchers
Joe DeMers, Jr. RHP Washington, College Park High School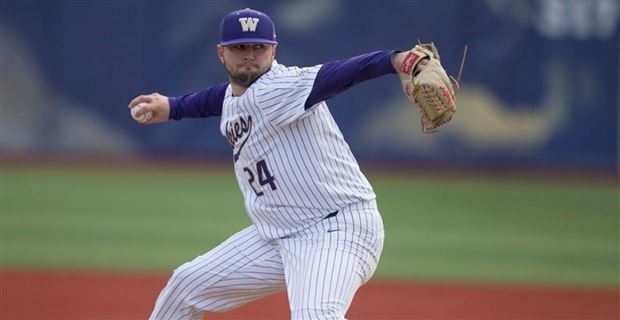 Photo Credit: Washington Media Relations
DeMers has been the ace of the Huskies staff this year, compiling a 2.39 ERA in 11 starts and 79.0 innings on the mound. He threw the fifth perfect game in Pac-12 history (first in school history) on February 24th against UC Riverside. In that start, he was so dominant that his highest pitch total in any one inning was 13 and he only pitched to a three-ball count once. He was named the Pac-12 Pitcher of the Week and was also recognized by many other national baseball outlets. As far as conference rankings among qualifiers, he's 6th in ERA (2.39), 7th in opposing average (.215), 3rd in innings pitched (79.0), 5th in strikeouts (67), and 10th in least walks allowed. With his performance this year, DeMers is sure to move up on a lot of draft boards, but the question remains whether he will forego his senior year and sign.
Kris Bubic, Jr. LHP Stanford, Archbishop Mitty High School  
Photo Credit: Bob Drebin of stanfordphoto.com
The best left-handed pitcher in the Pac-12 is part of the three-headed monster of Stanford's starting rotation. He is 7-0 in 11 starts with a 2.25 ERA. A repeatable delivery with a slight pause helps him get lots of swings and misses, especially over his excellent changeup. He ranks 3rd in ERA (2.25), 5th in opposing average (.206), and is tied for 3rd in strikeouts (72). Bubic had back-to-back starts this year against USC and Oregon where he went a combined 14.1 innings, giving up no earned runs, and striking out 15 batters. The junior is draft-eligible this June so look for his name to be called.
Aaron Shortridge, Jr. RHP Cal, Vintage High School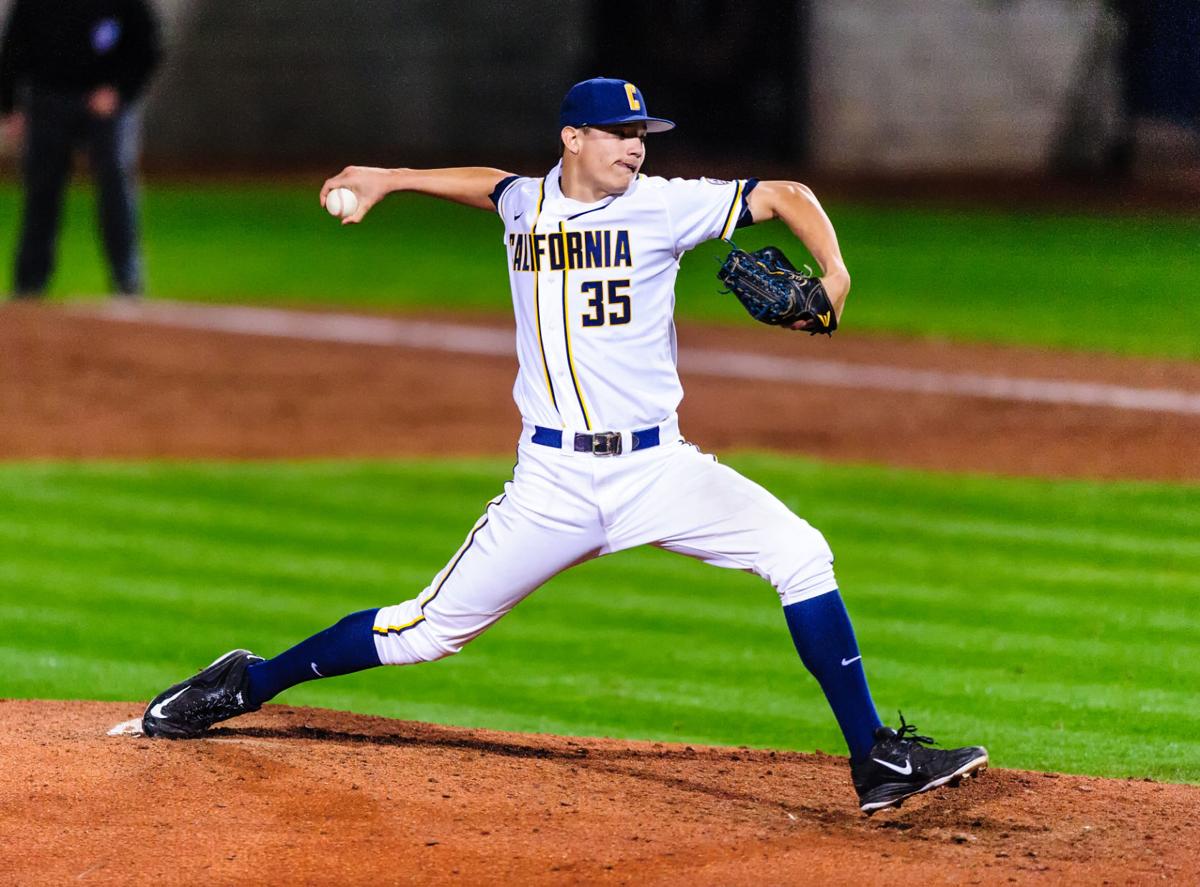 Photo Credit: Rick Manahan of NapaValleySports.com
Shortridge has emerged as the Bears' ace this season after working a limited role last year out of the bullpen. The Napa native is one of only 11 qualified Pac-12 pitchers with an ERA under 3.00 at 2.80. He's tied for 5th in innings pitched (74.0), tied for 6th in strikeouts (65), and ranks 30th in the nation in BB/9 with 1.34. His best outing of the year came against Utah where he went the distance on 111 pitches, giving up just one earned run and striking out nine.
Northern California has really come out with some bright stars this season. There will be lots to look forward to in the next few years for these young men on their journeys to The Show.
My name is Sam Starosciak and I am a recent graduate of Arizona State University majoring in Business Data Analytics.