Kyler Murray: Baseball vs. Football
The University of Oklahoma has just made the College Football Playoffs and a big reason why is their quarterback, Kyler Murray. Murray is currently in the hunt for the Heisman and some insiders believe he might win the award. If he were to win, he would be initiated into College Football's most exclusive club. Many would typically expect him to go to the NFL and change the culture of a struggling team. One problem… He was drafted 9th overall by the Oakland Athletics in the 2018 MLB draft. Murray agreed to a $4.66 million signing bonus, a deal that allowed Murray to play one more year of football.
Murray, the redshirt junior out of Allen, TX, has thrown for 4,053 yards and 40 touchdowns. He has also rushed for nearly 900 yards, scoring 11 times. On December 1st, Murray and the Oklahoma Sooners beat the Texas Longhorns 39-27 to win the Big-12 Championship. In that game, Murray threw for 397 yards and three touchdowns. OU is matched up against the #1 ranked University of Alabama that some media members are naming the "greatest college football team of all time." The two teams will play in the Orange Bowl on December 29, 2018.
While Murray has had a great amount of success on the football field, he reconfirmed that he will be playing professional baseball after his football season is over. During his final season at Oklahoma, Murray batted .293 with 10 home runs and 47 RBIs in 51 games played. The outfielder also showed promise in a relatively short session in the Cape Cod League.
There has been a lot of gossip over where Murray will eventually end up. This might be the first time since, dare I say it, Bo Jackson, that a two-sport athlete has gotten so much publicity. Hall of Famer Dave Winfield got into the discussion by saying, "It's pretty intelligent to play baseball, you don't get hurt as much. Any football player you know play 22 years?" Obviously, there have been players that have done both like Brian Jordan and Deion Sanders, but Murray is a different animal. He is the QB of the #4 team in the nation.
If I was to give advice to the Heisman candidate, I think Murray needs to stick to his plan and continue with baseball. Nothing is guaranteed in the NFL. Your career can be over after one hit (ask Bo) and you don't earn nearly the same amount of money as you do in MLB.
The University of Oklahoma has launched a campaign named "Kyler Knows." Much like Nike's campaign for Bo Jackson in the late 1980s.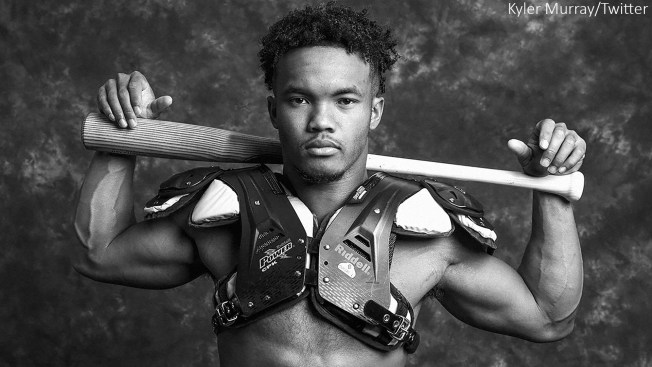 Here is the link: https://www.kylerknows.com
Photo credits: OU daily, Mlb.com
College student writing about Baseball for @sunriseshorthop